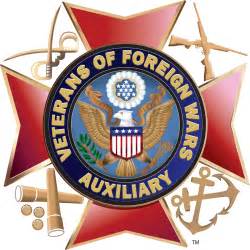 Established 1914, members of the Veterans of Foreign Wars of the United States Auxiliary set out to serve the veterans of this country and our communities in honor of the sacrifices and commitment of every man and woman who has served in uniform. The VFW Auxiliary is one of the nation's oldest veterans' service organizations and our members are the relatives of those who have served in overseas combat. We have nearly 470,000 members in more than 4,000 Auxiliaries nationwide who volunteer millions of hours and fund raise millions of dollars for charitable projects that benefit veterans, military service personnel and their families.
The VFW Department of Florida Auxiliary President for this year is Debbie Tilley out of VFW Post Auxiliary 7909. This year's theme is "Teamwork Makes The Dream Work" and the President's Special Project is "Heroes On The Water" (HOW).
President
Tela Harbold
12130 Lake Allen Drive
Largo, FL 33773
727-366-8143
winkingstar@aol.com
Secretary
Leona McDermott
4444 Royal Fern Way
Palm Beach Gardens, FL 33410
561-775-8678 (home)
561-386-6108 (cell)
leemvfw@comcast.net
Treasurer
Linda Burnette
P.O. Box 7359
Hudson, FL 34674-7359
727-378-8189
lburnette13@gmail.com
VFW Auxiliary Members: Eligibility
Must be citizens of the United States or a United States National, and at least 16 years old.
Those eligible are:
Husband/Wife
Widower/Widow
Father/Mother
Grandfathers/Grandmothers
Sons/Daughters
Grandsons/Granddaughters
Brothers/Sisters

Of persons who were or are eligible for membership in the Veterans of Foreign Wars of the United States.